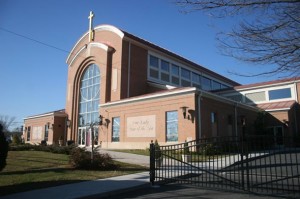 Founded in July 1916, Our Lady Star of the Sea is a Roman Catholic parish located in the Huguenot section of Staten Island.  Since its founding, the parish has endeavored to meet the needs of the South Shore community by expanding services, building infrastructure, and offering faith based ministries.
The school was founded in 1959 and has been staffed by Sisters of Charity, Presentation Sisters of the Blessed Virgin Mary, clergy, and lay men and women.  Since its founding, the school has grown to an enrollment of more than 880 students.  To evangelize students in the parish who attend public school, the Office of Religious Education instructs nearly 1,200 students annually.  Both educational programs – the school and religious education – prepare our children for the reception of the sacraments of Reconciliation, First Holy Communion, and Confirmation.  Annually, 250 prepare to receive their First Holy Communion; the Confirmation class could be as many 300.
Additionally, to catechize those people outside school age, the parish offers programs in RCIA (Rite of Christian Initiation for Adults).  Parents and godparents of the 240 children who are christened at Our Lady Star of the Sea each year participate in a baptismal education program.  More than 50 couples receive the sacrament of marriage each year at OLSS and participate in a marriage preparation program.  The spiritual needs of our teenagers are met with a youth minister who oversees the nationally recognized Life Teen program.
In 1993, Our Lady Star of the Sea began a program to build a Pre-K addition to the school to meet the needs of families who wanted a gospel education for their youngsters.  In 1998, we began a campaign to build an Athletic Center at a cost of $4.4 million recognizing that the existing athletic and meeting facilities of the parish were inadequate.  The completion of the athletic center has enabled us to expand athletic programs for our youth, and at the same time, accommodate the needs of other groups in the parish that otherwise wouldn't have meeting space.
Our Sunday Liturgies serve a large number of people on a weekly basis.  We also offer livestream Masses for those who are homebound and unable to attend in person.